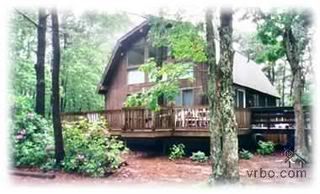 Here it is, in all it's glory. We'll be living it up here for a week this summer with our closest friends.
When searching for a beach house on the Cape, you have to decide what ultimately is most important. In this case, we had to sacrifice proximity to the beach for a place that could accomodate our needs.
*Beach House Search TipsDo Your Research!
This is quickly becoming my mantra- drive down, scope out the towns- see what works for you.
Start Early!
Start in February and don't hesitate. By mid-March, it's slim pickings...
Check out these sites for rentals by owner:
VRBO.com
Craigslist-Cape Cod/Islands
CyberRentals.com
WeNeedAVacation.com
Shell Out or Move Out:
The oceanside beaches and dunes in the
Outer Cape
are amazing (see pic).
Privacy, killer waves, beauty, beach sport, relaxation
- it has it all. However, if you want to be close to the beach and have enough space to sleep 5-10 people,
plan on spending $2500 to $3000 per week
.
Spent the last three weeks hunting like a crazy person to find a good spot...but remember
if it seems too good to be true, it probably is!
If not, nice places range from
$1500-2000 and are about 2 miles out
. You can pay $65 between everyone (in Wellfleet) and
get a beach pass
. Bring bikes...haul the gear in one car.
The nice thing about the farther places (like ours) is they offer more privacy...less neighbor interaction...see below...
Negotiate:
Try for
alternate days, Fri-Fri or Sun-Sun
, to avoid traffic. Also, you can get significant discounts by going on the cusp of peak season-
end of June, late August will save you about $500-$1000.Feel out your landlord:
The goal is to
foster a relationship and become a return tenant.
If you have doubts about the landlord (seems shifty, uptight, over-protective, LIVES NEXT DOOR), move on.
We've found Cape owners can be downright crazy about their property...avoid these ones at all costs!
Review the Lease closely:
Don't kid yourself- this is a real estate deal. Look for anything that will be trouble down the road.
And, finally,
have FUN
! With this careful preparation, you're all set up for a killer vacation week.
(and when your down there, the
beach bonfire
is a must!)