Went to New York this weekend for a "girls weekend" Stayed at the
Sherbourne Hotel
on Lexington and 37th. 5 blocks from Grand Central. It was a great place; beautiful (and clean) rooms, great service and the beds were like sleeping on air. This photo of the Empire State's Building was actually taken from our hotel room window. I'd recommend it, although if you're a simple, Dunkin Donuts-raised person, plan on walking to a nearby deli for a breakfast sandwich. Guess bacon, egg and cheese on a bagel isn't classy enough for the Sherbourne! A very small flaw...all in all, a wonderful place to stay.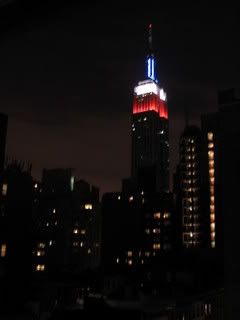 I wish I could say the same for the club we went to-
T New York
. The
T
has to stand for
TERRIBLE
.
No Organization:
No one had any idea we reserved a VIP booth. resulting in a 25 minute wait in the freezing cold.
Bad Service:
Once we were served, we were ignored until the bottle was empty...and we weren't allowed to keep the mixers for basic hydration needs.
RUDE Service:
An hour after the bum-rush to clear our table, the bouncer kicked us out of our table!!! He has a whole line of people start filing in and pushed us out the other end. He didn't even give us time to collect our friends or even our things! He said we didn't order anything else, so they gave our table away. What? When were we given the opportunity??
We managed to make the best of it by using my friends' flirting skills and our complaining skills to get into the upstairs section, yet another "VIP" area, where we were ignored by the bartenders and basically shoved in to a corner.
DANGEROUS:
The lousy VIP area didn't matter much because a short time later, a brawl broke out and my friend was knocked down and trampled. We promptly decided to head out.
Mis-Leading Advertisement:
T-New York claims to be a "classy and decadent" place on their web-site. I think not, unless your definition of classy is rude service and rough clientele...They say that they have "multiple rooms with different types of music"...also not true. They also claim to be "uniquely designed"...please tell me what is unique about a square dancefloor with a balcony surrounding it....and finally, I should note that there is no ventilation and that city sewer smell permeates.
TRAVELERS TIP:
If the bouncers have on
bullet proof vests
and everyone in the place is
staring you down
when you walk in, don't stick around to see if it's all in your head. The place is BAD NEWS!